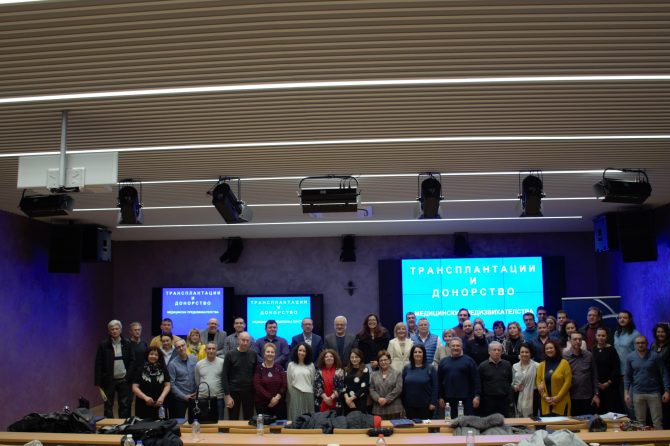 Transplant coordinators from across the country met with medical students for the first time and shared issues and cases from their organ, tissue and cell donation and transplantation practice. During the event, the healthcare professionals discussed with their future colleagues the challenges they face and the decisions they make in their day to day work. The meeting was intended to bridge the gap between theoretical knowledge and practical experience and thus give students a look at the sophisticated specifics of organ donation and transplantation.
The discussion was held on the first day of the three-day training workshop attended by more than 70 physicians from across Bulgaria. They were welcomed with official addresses by Mr. Rosen Ivanov, executive director of EAMS; Ms. Zheni Nacheva, deputy minister of health; Prof. Dr. Grupcheva, deputy rector of the Varna Medical University; Prof. Dr. Andonova, deputy director of the University Hospital for Multi-Profile Hospital for Active Treatment Sveta Marina; Acad. Dr. Hristo Grigorov, president of the Bulgarian Red Cross; Dr. Ivan Madzharov, president of the Bulgarian Medical Association's Management Board; Ms. Natalia Maeva, a NGO Management Board member.
Prof. Dr. Viliyan Platikanov, Prof. Dr. Elisaveta Naumova, Prof. Dr. Hristina Grupcheva, Prof. Dr. Anastasia Mihaylova, Attorney Prof. Dr. Darina Zinovieva, Assoc. Prof. Dr. Chavdar Bachvarov, Dr. Rumen Hichev and other renowned specialists presented various medical, legal, psychological, psychosocial, and ethical aspects of the donation and transplantation of organs, tissues and cells. The training workshop enjoyed great interest and the sessions passed in lively discussions.
The training was organised by Executive Agency "Medical Supervision" and kindly hosted by Medical University Prof. Dr. Paraskev Stoyanov with the support of UMPHAT Sveta Marina, Varna.
This workshop was the third of its kind since EAMS was first established. The training is a part of the 2019–2023 National Programme to Promote Organ Donation and Support Transplantation in the Republic of Bulgaria as approved by the Council of Ministers. The Programme includes plans for collaborative activities with medical universities to ensure initial and ongoing training in this field as well as train dedicated specialists for the organ donation and transplantation system.
You can find pictures from the event in our gallery.
You can find presentations from the event in the Presentations section on our website.