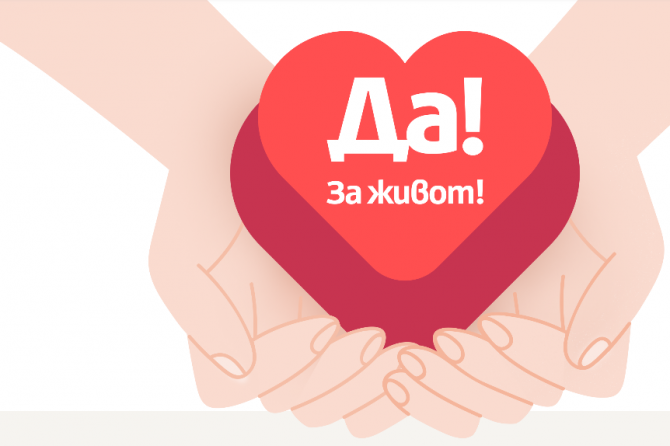 Students from national secondary art schools at the Ministry of Culture took active part in the National Campaign to promote awareness about organ donation and transplantation "Yes to Life!". They sent their message for more saved lives with musical numbers, dancing, drawings in flash mobs organised in the same day, in different places across Bulgaria.
The students' and their teachers' mission was to contribute to raising public awareness and understanding through art and set an example for involvement with the campaign organised by the Ministry of Health and Executive Agency "Medical Supervision".
Students and teachers from the following schools came out in support of the "Yes to Life!" campaign: the National School of Folklore Arts in the town of Shiroka Laka, the National School of Arts Veselin Stoyanov in Russe, the Professional High School of Applied Arts in Smolyan, the National High School of Music and Dance Arts Dobrin Petkov and the National School of Stage and Screen Arts in Plovdiv, the Professional School for Stonework in the village of Kunino, the National Art School Dimitar Dobrovich in Sliven, and the National School of Music Lyubomir Pipkov in Sofia.
They expressed their perspective on life-saving solutions in show of solidarity with the campaign, wearing T-shirts with the "Yes to Life!" logo.
You can watch the special events organised in support of the campaign on the facebook pages of the various art schools:
https://www.facebook.com/nufi.shiroka.lukka/ – National School of Folklore Arts Siroka Laka, town of Shiroka Laka
https://www.facebook.com/profile.php?id=1316524342 – National School of Stage and Screen Arts, Plovdiv
https://www.facebook.com/numtito – National High School of Music and Dance Arts Dobrin Petkov, Plovdiv
https://www.facebook.com/artrousse/ – National School of Arts Veselin Stoyanov, Russe
https://www.facebook.com/pgpismolyan/ – Professional High School of Applied Arts, Smolyan
https://www.facebook.com/stonemasonry1921/ – Professional School for Stonework, Kunino
https://www.facebook.com/nhg.sliven/ – National Art School Dimitar Dobrovich, Sliven
https://www.facebook.com/NationalSchoolofMusic/ – National School of Music Lyubomir Pipkov, Sofia