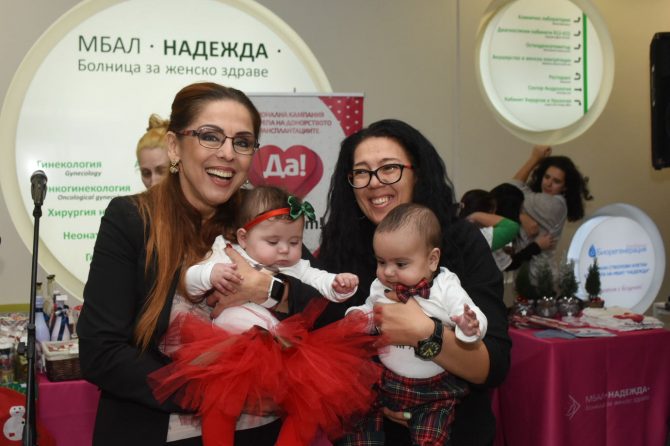 It is an honour to be here today and be a part of the launch of the now-traditional Donation Days in the Nadezhda hospital. Donation, in all its forms, is a truly noble act, a humane act, an expression of the care and compassion for the difficulties and suffering of others. These were the opening words by EAMS executive director Rosen Ivanov at the start of the three-day charity initiative in the Nadezhda hospital today. He emphasised that donation in the field of reproductive medicine is exceptionally important.
As a representative of the Agency responsible for and the Bulgarian competent authority on all types of transplantation and assisted reproduction, we cannot but support and back the campaign. We are very well aware that donation rates are not high not only for organs, but in reproductive health as well, the executive director pointed out. He said that over the last few years the tendency to import donor material from Europe has been growing while donor material collected in Bulgaria had not increased. So, we have to do everything we can to make people aware that they can donate organs and hope to other Bulgarians so they can experience the joy of raising a child of their own, Rosen Ivanov urged.
EAMS statistics shows that in 2017 there were 38 donor eggs imported from European countries, 159 in 2018, and as of the end of October this year, imported donor eggs were 192. In the same period, donation rates in Bulgaria remained unchanged, at an average of 400 egg donors per year. In 2017 the number of egg donors was 372, in 2018 it was 430 and between January and the end of October 2019 there were 379 egg donors in Bulgaria.
According to EAMS data, the number of donor conceived children in 2016 was 368, and in 2017 it was 219, based on information from 18 healthcare facilities. We are still expecting hospitals to submit their data for 2018 to the Agency.
Today and for the next two days you can find EAMS's dedicated stand in the central foyer in the Nadezhda hospital where you can take information leaflets and advertising materials from the "Yes for Life!" campaign.