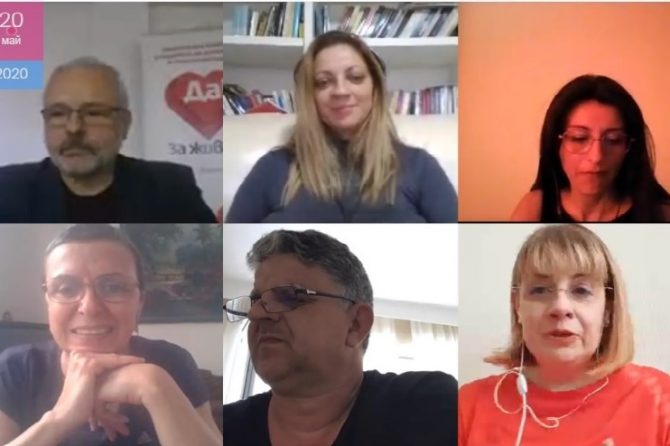 Executive director of Executive Agency "Medical Supervision" Rosen Ivanov and Pulmonary Hypertension Association Europe (PHAE) president Danijela Pesic took part in the "COVID-19 and Pulmonary Hypertension: Life with (No) Restrictions" webinar for students, physicians and patients. The event took place as part of the World Pulmonary Hypertension Day. Pulmonary hypertension is also sometimes called "blue lips disease" after one of its symptoms – bluish lips caused by not enough oxygen. The event was held to raise public awareness and sensitivity to people living with PH and help future physicians learn more about the condition. The webinar covered the latest improvements in access to quality care for PH patients even in the current health crisis.
The webinar was organised by Ms. Natalia Maeva, president of the Bulgarian Society of Patients with Pulmonary Hypertension, in collaboration with EAMS. It was attended by 45 participants and included lectures and presentations by Dr. Lyubomir Dimitrov (head of the Paediatric Cardiology Department at the National Cardiology Hospital), Assoc. Prof. Natalia Stoeva (head of the Pulmonology Clinic at Acibadem City Clinic – Tokuda Hospital), and Dr. Velislava Donkina (head of the Non-medical and Psychological Care Unit at the National Haematology Hospital).
"I am glad we are together in these difficult times, even if we're apart. Pulmonary hypertension is treatable when found early. Widespread awareness, knowing the symptoms and how to combat the condition are of the essence. The role of Executive Agency "Medical Supervision" is to step in when it comes to transplantation. In Bulgaria we need to do more to promote organ donation. This is why we are consistently trying to coordinate donation efforts and help facilitate more lung transplants in Bulgaria", EAMS executive director Rosen Ivanov said in his opening address.
Pulmonary Hypertension Association Europe president Danijela Pesic said that over the last two years, Bulgaria had made significant progress in the treatment and care of Bulgarian PH patients, setting on its way to becoming a leader in the region. The reason, according to Ms. Pesic, was the active efforts of patient organisations, but also their collaboration with government institutions. She said that panic may be a threat, even though the unprecedented situation would naturally give rise to fear. "Any virus is dangerous, but if we take good care of each other, we will keep healthy", Ms. Pesic remarked.
"Bulgarian patients are sadly isolated, however, isolation is something we, pulmonary hypertension patients, know well. Very few people can imagine what it is like for a PH patient, because our every movement takes incredible effort. There are times when you have to plan your route or how many words to say so that you don't run out of breath", Natalia Maeva said in her address.
The intuitive takes place in Bulgaria for the eighth consecutive time.