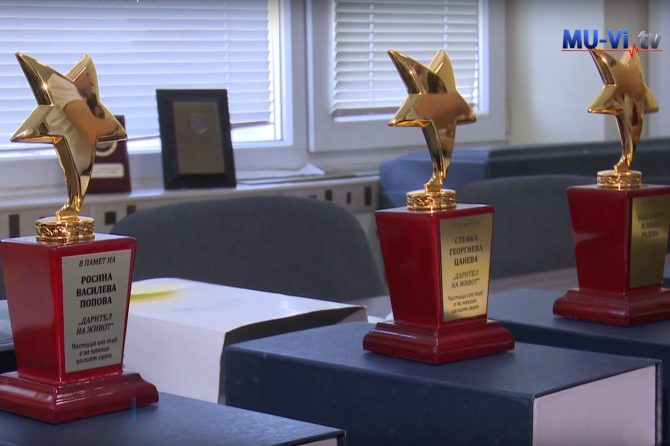 Professor Dr. Viliyan Platikanov, head of the Anaesthesiology and Intensive Care Unit at the University Multi-Profile Hospital for Active Treatment Sveta Marina in Varna and organ donation coordinator presented Donation Star awards and letters of appreciation to five families who had lost their loved ones. All of them had made the decision to donate their family members' organs to patients whose only chance to live was transplantation. Thanks to their decisions, 15 people now live normal lives, as the doctors from the Sveta Marina University Hospital transplantation team point said. You can see footage from the emotional event here.
On 23 November this year, Executive Agency "Medical Supervision" and the Ministry of Health established the Annual Awards for Contribution to Organ Donation and Transplantation in Bulgaria, 2019. The awards are a part of the "Yes to Life!" National Campaign. Nine donor families and 46 doctors from across Bulgaria were awarded at an official ceremony in the Ivan Vazov National Theatre for their contributions amounting to 14 donations and 41 saved lives: of 32 Bulgarians and 9 people from other European countries.
In 2015, the Donation Star statuette was designed on the initiative of the Executive Agency for Transplantation (EAMS's predecessor). The awards express the government's deep appreciation to the donors and their families for their deeply compassionate act of organ donation.